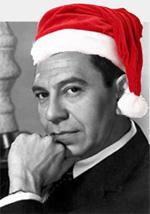 "TUM de Dumdum, Tum de Dum Dum DUMMM!" Christmas is found on the mean streets of Los Angeles. One of the saddest possible Christmas stories is Dragnet's "Twenty Two Rifle for Christmas." The story about an unsupervised boy whose friend is killed with his Christmas present, then hides the body is enough to do more for a holiday depression than credit card bills. "Twenty Two Rifle" became a Dragnet tradition and was broadcast for three years until the writers decided it wasn't uplifting enough for the joyous season.
http://www.otrcat.net/otr6/Dragnet-501221-E080-Twentytwo-Rifle-For-Christmas-OTRCAT.com.mp3
The old mission church, the oldest in Los Angeles, is attended mostly by the poor Mexican families in the area. Several years ago the parishioners took a collection and purchased a nativity scene that had been displayed in the church every year. The Baby Jesus from the display is missing on December 24th. Father Rojas explains to Sgt. Friday and his partner Frank Smith that the baby Jesus is the only one that many of the people had ever known. With less than twenty four hours before the first Christmas mass, Friday doesn't hold much hope they will find the thief, but he does his best. Other cases are unfolding, but this is important to Friday. They interview the altar boys, and check out the local religious supply stores with little success. They do find a suspect, but his alibi that he is preparing for a Christmas program for down-and-outers checks out. Finally the detectives are forced to tell the Father that they cannot find the statue in time for the Christmas mass, but they will continue through the following week.
As they are speaking to the padre, the doors to the church open, and a young boy pulling a shiny red wagon comes in. Riding in the wagon is the baby Jesus. Young Paquito Mendoza haltingly explains to the Father in Spanish that for years he has prayed for a red wagon for Christmas. This year in his prayers he has promised that if he gets his wagon, he will take Baby Jesus for the first ride. As the statue is lovingly replaced Father Rojas explains that the local firemen refurbish toys for poor children, and that is where Paquito's wagon has come from. The Padre says that Paquito's family is very poor. There is not a dry eye around the radio when Sgt. Friday asks "Are they Father?"
Both of these Christmas Radio Shows would be adapted for the small screen when Dragnet came to TV, with "The Big Little Jesus" done in two different versions; first in 1953, then remade using the same script in 1967 as "The Christmas Story."
http://www.otrcat.net/otr6/Dragnet-561225-e373-Big-Little-Jesus-OTRCAT.com.mp3