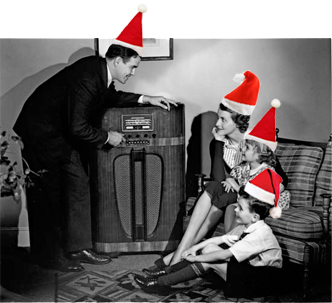 The shopping and preparation for Christmas is when the retail industry makes their biggest haul of the year. It just wouldn't seem right if Santa didn't start showing up in the stores before the Halloween candy was put away. In the last few weeks before the Big Day, many of us are sticking the buds of our MP3 players in our ears just to drown-out those darn chipmunks and listen to some Christmas OTR.
Fibber and Molly had plenty of terrific Christmases in their long run as well. Fibber had more than his share of problems with the Wistful Vista Christmas salesman over the years. On different occasions, Â he tried to cut down his own tree to trusting his haggling skills. Perhaps his finest Christmas Tree moment came in 1945 when he uses an attachment on Molly's vacuum cleaner to paint the tree white!
Everyone loves to get into the Gift giving spirit, but Santa can be a positively dangerous job. In fact,  Santa manages to get "rubbed out" on Nero Wolfe, Rocky Fortune, and Casey, Crime Photographer. Murder and death don't really fit into the joyous season, but Sgt Friday manages to use them in one of the most depressing Christmas episodes on radio, the "Rifle for Christmas" episode of Dragnet.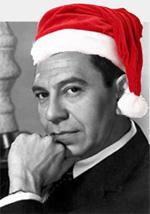 Dragnet also gives us one of the most uplifting Christmas episodes in "Big Little Jesus". During the Los Angeles Christmas craziness, it seems like a senseless crime had been committed, when it turns out that a poor little boy who received a red wagon for Christmas is keeping a promise he made to the Baby Jesus.
Whether OTR keeps you company while you are driving from one seasonal errand to the next, or if a few episodes keep you smiling while you wait for the last batch of Holiday cookies cool, we hope that you will enjoy this Christmas Season.