After the Blessed Birth in the Manger and the Guy in Red bringing presents, Dickens's A Christmas Carol is probably the most frequently told and retold of Christmas stories. (The forth would probably be George Bailey seeing how the world would be if he had never been born, from It's a Wonderful Life.)
There are many beloved direct retellings of the ghostly tale, such as the classic films with Alistair Sims (1951) and George C. Scotts' made for television version (1984); as well as several musicals such as Albert Finney's 1970 film. Just as popular are the adaptations that replace the original characters with the production's own characters. In film these include Mickey's Christmas Carol (1983) featuring Scrooge McDuck as Scrooge and characters from Disney animated films filling the rest of the tale; 1992's Muppet Christmas Carol; and Bill Murray's Scrooged! (1988.) Television has had a more than merry time with the story: Mr. Magoo's Christmas Carol (1962) was an animation featuring the voice of Jim Backus as the nearsighted title character; Rich Little's Christmas Carol (1978) featured the impressionist playing several celebrities in the main roles, notably W.C. Fields as Scrooge and Richard Nixon as Jacob Marley's Ghost; in An American Christmas Carol (1979) Henry Winkler, at the height of his Happy Days popularity, placed the tale in Depression Era New England; and of course Bugs Bunny's Christmas Carol (1979) with Scrooged played by Yosemite Sam.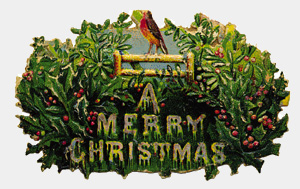 The Christmas Radio Shows was treated well during the Golden Age of Radio as well. Lux Radio Theater, Campbell's Playhouse, and Globe Theater all did adaptations of the story. Dick Powell's detective drama, Richard Diamond did a version, and it was even adapted to the horrors of the Korean War in Suspense! Of course the comics had fun with the story, including Burns and Allen in "Gracie's Christmas Carol", the Duffy's Tavern cast presented a version,  even the Bumstead's got into the act with their version of Scrooge on the Christmas Day broadcast of Blondie.
These great christmas radio programs andmany more can be found at ChristmasRadioShows.com